Are you competing in the Tactical Games for the first time? Or are you a perennial Tactical Games competitor looking to level up? Whether you're interested in Tactical Games training or you're LEO/Active Duty looking to stay in a state of readiness, check out our new program, Grit Tactical. Grit Tactical is the perfect programming combination for everything #FitnessAndFirearms. Taking the best of the fitness world and marrying it up with the best instructors of the firearm industry we've created a top tier program. But hey don't take my word for it, go grab our free sample programming below to get an idea of what Grit Tactical is all about.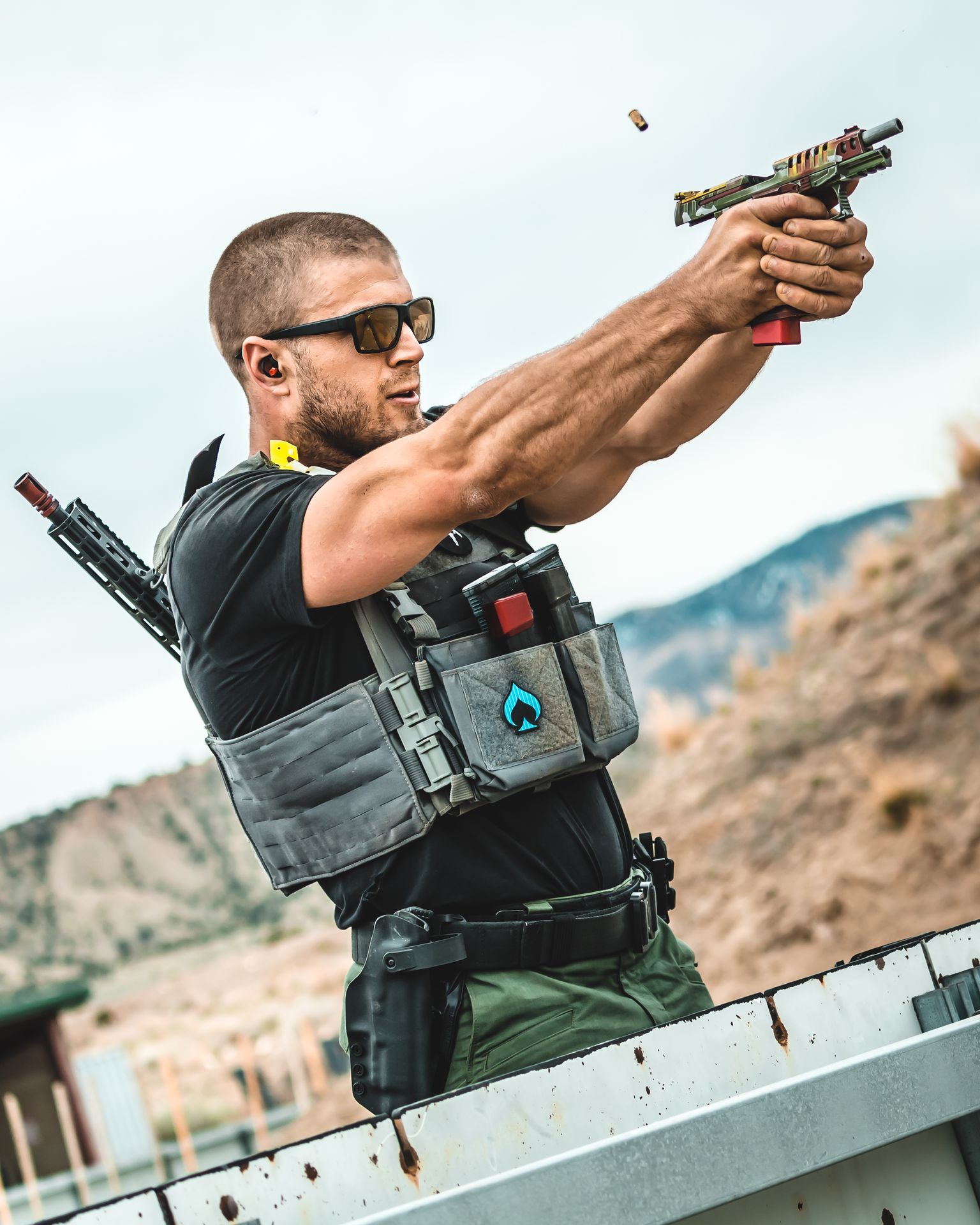 Our program gives you access to:
Fitness Training – Insightful and Proven programming focused on strength cycles, metabolic conditioning, and functional movements. This isn't guess work.
Firearms Training – Includes daily "dry fire" drills and weekend "live fire" drills with purpose and goals for each session. Let's improve your performance for manipulation, speed, and accuracy of your primary and secondary.
Competition Workouts – Includes once a week workout(s) that combine two key elements, tactical fitness and firearms training, in order to prepare you for Tactical Games and/or shooting under duress.
Exclusive Member-Only Tactical Games App – This all-in-one app houses your programming, communication to coaches, video reviews, and more!
Community – I'm a firm believer in creating a community. Surrounding yourself with like-minded individuals who are on the same path with similar goals to you. Once you sign up for GRIT Tactical you will immediately be added to the Exclusive Member-Only Tactical Athlete app. This community will be used for asking questions, uploading videos of your live fire drills and looking for advice, posting PRs, congratulating each other on successes, reviewing videos, and all around just having a good time.
What you can expect from the Grit Tactical Team:
A top-tier coaching staff capable of reviewing your videos of either fitness or firearms and providing critique to help you level up.
A community to help keep you accountable with your peers, cheer each other on, answer questions you might have, and provide valuable feedback in-app.
Finally, we've designed an awesome retention system that everyone is going to love. Can someone say SWAG and unique cerakote pmags?
What is this?
Daily recurring programming that is filled with Dry Fire, Live Fire Drills, Mock Competitions, and Fitness. Programming with the purpose to get you and keep you ready for the Tactical Games.
PRICING: $49.99 per month
4 WEEK TACTICAL PREP GUIDE
What is this?
In-Depth focused programming covering topics – dry fire, sandbags, reloads, farmer carries, etc etc – to ensure you are ready for your upcoming Tactical Games event and make sure you are prepared for your division requirements. This is meant to be started one month out from your event to assure you are completely prepared to put your best effort forward.
PRICING: $49 one time cost
Meet Your Coach
5x Crossfit Games Athlete
Owner of GRIT Performance
2nd Place 2021 Tactical Games Nationals
Grit Tactical Head Coach
Jacob Heppner
Meet Your Coach
5x Crossfit Games Athlete
Owner of GRIT Performance
2nd Place 2021 Tactical Games Nationals
Grit Tactical Head Coach
Jacob Heppner